USGA Museum
USGA Museum Adds William Wolk's Snead Portrait To Collection
Jan 12, 2009
By David Shefter, USGA (edited)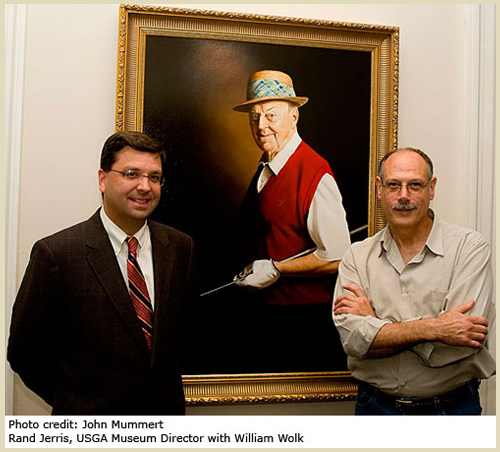 Far Hills, N.J. – Gracing the walls and hallways of the USGA Museum and Administrative Building at Golf House are hundreds of photographs and paintings depicting golf courses, past champions and important individuals who have played vital roles in the history and success of the United States Golf Association.
The USGA's collection of golf art comprises some 600 paintings and works on paper, making it one of the largest and most respected in the entire world. Some of the featured portraits include golf greats Bob Jones, Gene Sarazen and Arnold Palmer. Most of them are on display.
Sam Snead can now be added to that prestigious list. Recently, a portrait of Snead by William Wolk was donated to the Museum.
"Our collection was a bit thin in examples of outstanding, contemporary American artwork," said Rand Jerris, the USGA's Museum director.
"The Snead painting is one of the finest portraits in the collection. A lot of the portraits in our collection were commissioned by the USGA. In many cases, a group of donors came together to do it. This portrait is unusual because it was created for a different purpose and then came to us. It's outstanding in terms of its technique. And it's a remarkable likeness of Snead — one of the best I've ever seen."
The Snead portrait almost never made it to Golf House. On the evening of Aug. 30, Wolk's car parked in the driveway of his Ronceverte, W. Va., home inexplicably burst into flames. It not only torched the vehicle but everything in his home. Fortunately, some unfinished artwork was housed in Wolk's studio on the other side of the driveway. The Snead portrait happened to be in the studio awaiting a new frame, along with an unfinished portrait of the Dali Lama that the 57-year-old Wolk had created to raise money for a Tibetan monastery through the foundation he founded called Friends of Kharnang.
"I lost dozens and dozens of works," said Wolk, who is known for his real-life depictions of people, landmarks and animals. His portrait of outgoing President George W. Bush following the Sept. 11 terrorist attacks has now become part of Bush's Presidential Collection and likely will be part of the George W. Bush Presidential Library.
As for how Wolk, a non-golfer, wound up portraying one of the game's greatest players, it all comes down to being in the right place at the right time. For 25 years, Wolk had a gallery at The Greenbrier, a swank resort in White Sulphur Springs, W.Va., where Snead was the head golf professional emeritus. Snead, considered one of the game's straightest drivers of the golf ball, owns a record 82 PGA Tour victories, including seven majors. The lone blemish on his Hall-of-Fame career was his failure to win the U.S. Open Championship, where he finished second four times. Only Phil Mickelson has the same number of runner-up U.S. Open finishes without a victory.
While Wolk never played the game, he frequently saw Snead at the resort and the two traded pleasantries whenever they crossed paths. As Snead approached his 85th birthday in 1997, the president of the resort approached Wolk about doing a portrait of the golf legend, and since Wolk's shop was located on property, he agreed to the proposition. He took several still photographs of Snead before putting paint to canvas.
As the project was nearing its completion, Snead's son, Jackie, marveled at the authenticity. Everything was perfect except for two items: Snead's forearms were a tad too small and the band on his famous straw hat was missing its trademark plaid pattern.
"I didn't realize it was his signature," said Wolk, who never watched Snead play during his heyday on tour. "I painted it as a solid band. For me, it was just busy work."
The portrait remained at The Greenbrier for a decade until Wolk's manager suggested he donate the portrait to the USGA.
"She said this needs to be somewhere where it's the proper fit and people will see it," said Wolk. "She came up with the USGA and called Rand Jerris. They said they'd love to have it. It was as simple as that."
The portrait itself captures the legend that Snead has become. In his arm is a classic persimmon driver, an implement that Snead swung with the precision and skill that made him one of golf's icons. Wolk is especially proud of how the tones of the driver head popped.
"When I first looked at it, I was worried if I could do it," said Wolk. "I wouldn't even know what kind of driver that is. I believe it came out great."
David Shefter is a USGA Digital Media staff writer. E-mail him with questions or comments at dshefter@usga.org.