Books
William Wolk Fine Art at the Greenbrier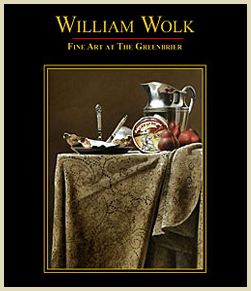 This sumptuous volume, richly printed with 90 exquisite full-color reproductions, offers an in-depth look into the world of one on America's premier realist painters. Mr. Wolk has been the Artist – in – Residence at The Greenbrier, the world famous resort located in White Sulphur Springs, West Virginia, since 1984.
Spanning over twenty-five years of his career, this volume reflects the tremendous versatility and unique artistic vision of this self-taught painter. Paintings are illustrated by chapters: Swans / Figures and Dancers / Still Life / Animals / Portraits / Landscapes.
In William Wolk's work one encounters a distinctive artistic viewpoint which expresses at once profound depth and sensitivity, as well as humor. Furthermore, we get to know Mr. Wolk through the observations of Laurance D. Triplette, Curator and a Senior Accredited Member of the American Society of Appraisers; Fiore Custode, Senior Faculty Member of the Ringling School of Art and Design; and James G. Tylich, Lecturer, Art Critic and Gallery Owner.

William Wolk Paintings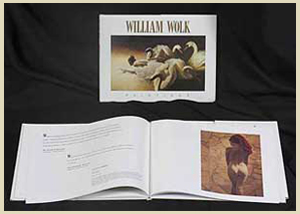 Published by Jalmar Press and currently distributed by Ananda Hill Press, this hard bound edition was released in 1994. It measures 9 ¼ x 12 ½ inches. Features include comments and observations by a number of Mr. Wolk's collectors, with a foreword by Anna Hathaway Gauthier. Nineteen color reproductions on 48 pages.
This volume is an excellent example of William Wolk's earlier work, showcasing the genres upon which he has built his long career: Dancers / Figures / Animals / Still Life.